Attention all events organisers…… Centurion Temporary Fencing has specially discounted rates for all event fencing to reflect the fact that the duration of hire tends to be much shorter than the average.
We have lots of experience installing temporary event fencing & crowd control barriers for events and are very aware of the timescales and the pressures associated with making sure the fence is installed and dismantled at the time stipulated and within the allotted time frame.
No event is too big, too small or too difficult. We will work with you to ensure your requirements are met and your expectations are exceeded. Quite often installing event fencing involves working outside normal working hours, this is not a problem and any associated costs will be included and detailed in our quote so there are no hidden extras.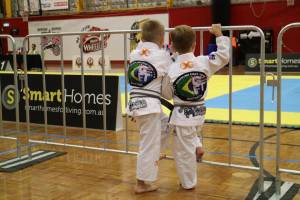 IMAGE IS EVERYTHING when it comes to organising a successful event and image is important to us too. It's highly likely that the first thing your customers see when they arrive at an event will be the temporary fencing so it needs to look good and for this reason we have a dedicated allocation of premium fence that is used purely for events. It needs to be installed professionally and the panels themselves need to be in good condition.  An event is not like a building site and we recognise this.
Some recent events completed by Centurion Temporary Fencing include Mandurah Crab Fest, Wesbuilders Expo, Town of Bassendean NAIDOC Family Day, RSPCA Million Paws Walk. 
Need Crowd Control Barriers, temporary fencing for your event or a combination of the two.  Call Centurion Temporary Event Fencing to discuss your event fencing and ask to speak to our events manager.  We have  recently appointed Blake Smith to run the events fencing and pedestrian barrier side of the business.
Products available for events include:
Standard Temporary fencing
Crowd Control Barriers
Temporary Hoarding Fence
Standard Shade Cloth (50%, 70% or 90%)
Printed Shade Cloth- your logo or graphics printed on 70% shade cloth
Printed Banners
Weedmat- for a total visual barrier
Pedestrian Gates
Vehicle Gates (included as standard, no extra charge)
Height Extensions- to increase security